Back to: ExEC: Student Preview
This is an exercise preview. Please refrain from duplicating, sharing, or using with students/in class. For full access, contact

ExEC@TeachingE.org

.
Imagine you've just completed your Marshmallow Challenge as part of a training exercise at your new company, and your boss sends you this email:
Hey,

I couldn't make it to the Marshmallow Challenge training. How did it go? What takeaways can you share at our next team meeting in terms of new product development?

Speaking of which, Michelle wants our team to write a business plan for a new "smart dog collar." What do you think?

Thanks,
Diana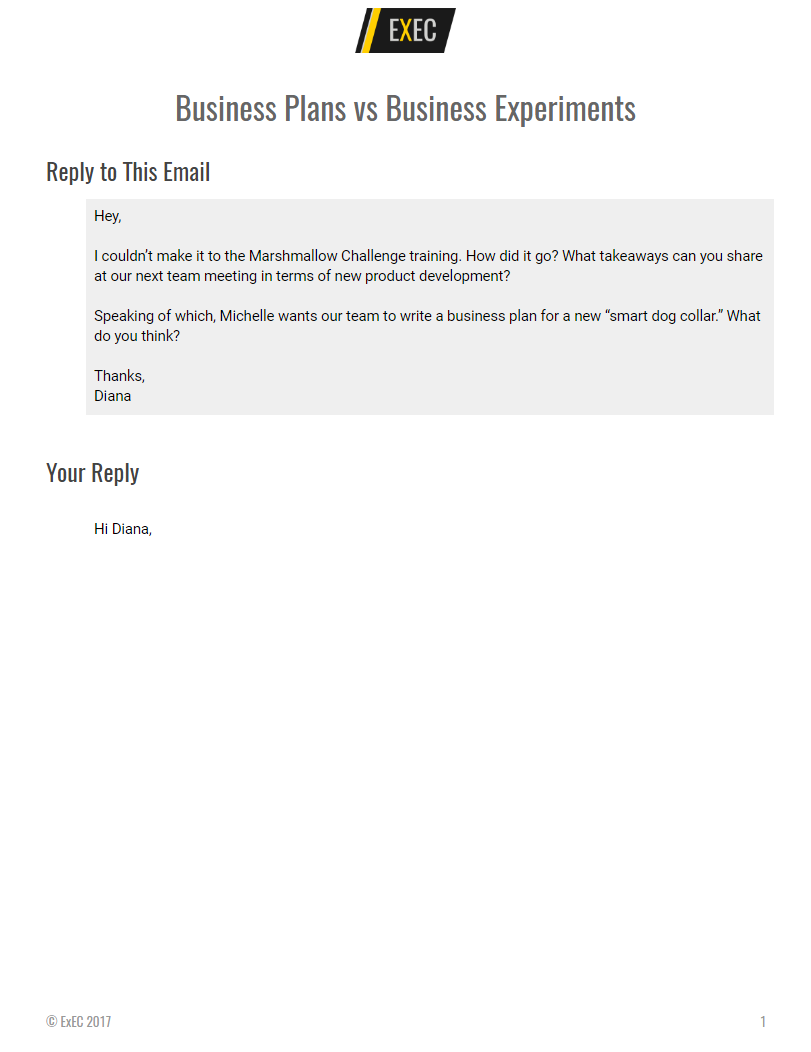 Click here to write a reply to your boss's email. Be sure to include:
A short summary of your Marshmallow Challenge experience
Any hidden assumptions your team made that limited the height of your tower
How you'd change your approach if you did the Marshmallow Challenge again
How you'd recommend your team apply those lessons going forward as you develop new products
Referencing your Marshmallow Challenge experience, explain why your team would be better served identifying and testing the business assumptions around the "smart dog collar" than writing a detailed business plan.
When you're finished, download the document (File->Download As->…) and submit it to your professor via their preferred method (i.e. upload to Blackboard, Canvas, Moodle, Dropbox, email, etc.).
Important: write up your email response in a Google Doc here (not the form below).
The form below is feedback for us (the team that created the exercise) to let us know how we're doing. Your feedback is very much appreciated!